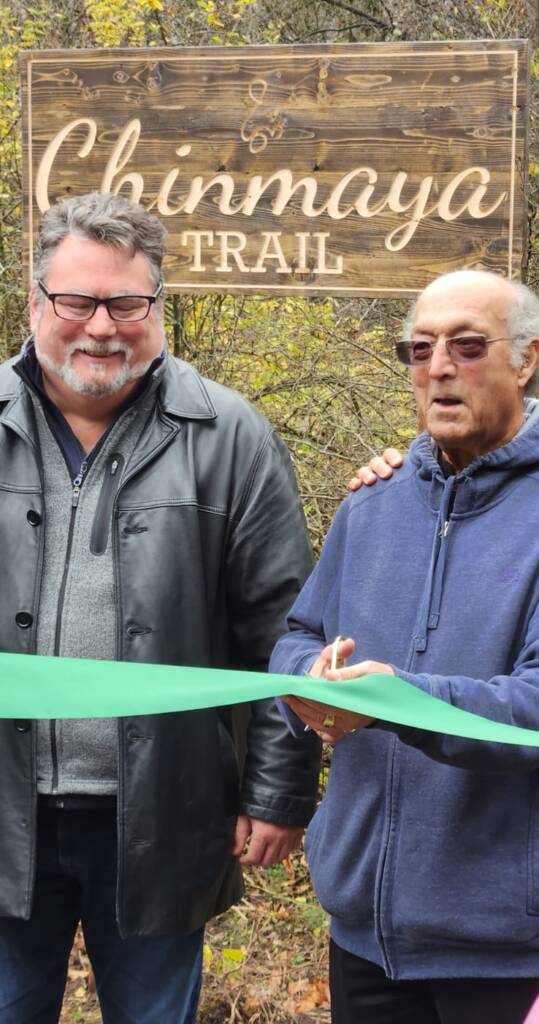 A new trail has been added to the Hamilton Conservation Authority (HCA) in Ontario, Canada in honour of our Swami Chinmayananda. 
The "Chinmaya Trail" is located in Westfield Heritage Village Conservation area and adds 2.4 kilometres of trails to the existing trail network. Park visitors can now enjoy 6.7 kilometres of hiking, natural woodlands, plantation forests, significant wetlands, meadows, and cultural heritage features from past farming operations on the 204-hectare (503-acre) property. 
Notably, the trail system is designed to be accessible for strollers and wheelchairs, featuring flat-packed gravel surfaces and boasting three new bridges that cross over wetlands and streams.
The official inauguration and ribbon-cutting ceremony occurred on Saturday, November 4, 2023. Representatives from the Chakraburtty family, along with HCA staff and board members, gathered to cut the ribbon and elaborate on the trail's dedication. 
In 2016, HCA acquired the Chakraburtty family property, the final piece of land connecting two separate tracts. This pivotal acquisition made it possible to develop the trail system and elevate Westfield Heritage Village to a conservation area, preserving its natural heritage features and supporting passive recreational activities.
Inauguration speech by Mr. Joti Chakraburtty
Good afternoon,
Chief Administrator of Hamilton Conservation Authority Lisa Burnside, Councillor Brad Clark, Director Scott Peck, Councillor Gord Costie and to the members of Chinmaya Missions Ottawa, Halton, Niagara and Toronto for coming here today, Hari Om and welcome to all.
Before we begin, we will get the group to stand up and recite the Chinmaya Pledge:
We stand as one family, bound to each other with love and respect.
We serve as an army, courageous and disciplined, ever ready to fight against all low tendencies and false values, within and without us.
We live honestly the noble life of sacrifice and service, producing more than what we consume and giving more than what we take.
We seek the Lord's grace to keep us on the path of virtue, courage, and wisdom.
May thy grace and blessings flow through us to the world around us.
We believe that the service of our country is the service of the Lord of Lords, and devotion to the people is devotion to the supreme Self.
We know our responsibilities.
Give us the ability and courage to fulfill them.
Om Tat Sat
The pledge is exactly that – a promise to oneself to have a universal vision and organizational compassion to work together in society—a promise to strive for good and aim to attain maximum happiness for all.
Why did Swami Chinmayananda begin this great worldwide vision?
He himself was a seeker and believed that the message of Vedanta in English through classes and lectures was a simple, logical and widespread means to bring this philosophy to life in day-to-day living. Swamiji's message was to spread to families, with focus on children and youth as well. As you see, we have with us Chinmaya families with children, youth, adults, and seniors. Many children who started with us, now have become teachers and leaders within their own community.
In the 80's, the community of St. John's Newfoundland created the first Chinmaya Centre in Canada. We then moved to Ontario, and slowly Chinmaya families joined in Halton, Niagara, Ottawa regions and growth continues to spread over Canada. Today, Ontario itself has five Chinmaya centres. These centres provide a space to host these classes, camps, events and other activities.
Chinmaya Worldwide, is not just about disseminating Vedanta. The organization has and continues to build schools, hospitals, universities, and international schools, as well as, have seminars for men and women who become monks to continue the Vedantic traditions. There are schools all over Europe, India, Asia, Australia and North America.
Years ago, my wife Sneh Latha Chakraburtty had purchased this lot of land. She had always wanted to use this land for either a Chinmaya centre for Halton or an old age home for Chinmaya Mission. Due to zoning issues, access to water sewer and many more obstacles this dream of Sneh's was not getting any traction.
Then in May of 2015, Chris Firth-Eagland called Sneh and asked if she would be interested in selling the land to the Hamilton Conservation Authority. He made her realise that if she cannot convert the land for his work, then the land should remain untouched and preserved for eternity.
She had deep sentimental value of this purchased land which had been earned through her hard work, but felt that Chris's vision was aligned with hers. These 46 acres were the last piece to link an amazing conservation network. Her only stipulation was that it be named Chinmaya Trail, so that for generations to come, this area will be protected and maintained by an institution that believes and respects nature, something Swami Chinmayananda repeatedly preached.
It gives me great pleasure that today these forests remain as Sneh loved them. I am so thankful that both Chris and Sneh's vision has come to life. It gives me a feeling of humility to honor our teacher and life guide Swami Chinmayananda and it gives me so much happiness to see my grandchildren here to witness acts of kindness and respect towards the Earth.
I will now request Saakshi, Divya, Bharat and Arjun to come up and present our dignitaries with a gift from us.
Thank you and Hari OM